Sennheiser, a pioneer of audio technologies with its 75-year history, has expanded its product range appealing to audio enthusiasts and music lovers with brand new models. Making a difference in the cinema experience with technologies such as Dolby Atmos, the AMBEO Soundbar series offers a new option to users looking for the best sound for their homes with AMBEO Soundbar Plus and AMBEO Subwoofer. With the advantage of being the world's first compact soundbar that can broadcast in 7.1.4 channels, AMBEO Plus brings the home cinema experience one step closer to real life in every corner it is placed.
Expanded with the new AMBEO Soundbar Plus and AMBEO Subwoofer, the Sennheiser AMBEO Soundbar series is a new opportunity for users who want to bring the best-in-class immersive sound into their homes.
World's first 7.1.4. AMBEO Soundbar Plus, a soundbar that can broadcast on channels, places users at the center of the cinema experience with a more compact body than the award-winning AMBEO Soundbar Max. When AMBEO Soundbar Plus works together with the AMBEO Subwoofer, it guarantees a breathtaking cinematic experience, creating a mini movie theater in your home. "AMBEO Soundbar Plus and AMBEO Subwoofer build on the success of the award-winning AMBEO Soundbar Max, voted by critics as the world's best soundbar," said Maximillian Voigt, Sennheiser AMBEO Soundbar Product Manager. "With deep, immersive sound and a more compact body, the new AMBEO Soundbar "Our Plus is one of the few products that can be preferred by those who want a home theater experience with audiophile quality sound," he says.

Enjoy the cinema experience at home
Making room for a more compact and new soundbar in its product portfolio, Sennheiser offers AMBEO Soundbar Plus. Three-dimensional sound technology, developed with Fraunhofer institutes, which are considered world leaders in this field with their research activities in the field of sound technologies, has been successfully applied to AMBEO Soundbar Plus, as it was to AMBEO Soundbar Max. AMBEO's automatic calibration ability detects the acoustic characteristics of the room it is in and places seven virtual speakers and four additional ceiling speakers around the listener on the horizontal axis in the light of the acoustic data analyzed by its powerful processors. This feature makes AMBEO Soundbar Plus a surreal speaker that projects sound from any corner of the room. Users can experience the depth of a theater, the ability to impressively position effects and environmental objects, and high resolution in their homes, without the clutter of extra cables or stereo speaker cabinets. AMBEO Soundbar Plus also offers customizable presets for equalizer settings and more customization options, thanks to the Smart Control mobile app. This impressive and immersive three-dimensional sound that surrounds you is provided on the digital side with support for Dolby ATMOS, DTS: X, 360 Reality Audio and MPEG-H Audio technologies. Users can even upscale stereo and 5.1 content to a breathtaking 3D audio experience, creating the feeling that the artist is actually in the room.
Sennheiser AMBEO Sounbar Plus uses the AMBEO|OS operating system. This allows the AMBEO Soundbar Plus to access multiple music streaming services, support Apple AirPlay 2, and integrate with Google Assistant compatible devices, including Spotify Connect, Tidal Connect, and Chromecast. Moreover, seamless interaction occurs with Alexa-supporting devices and Apple Siri.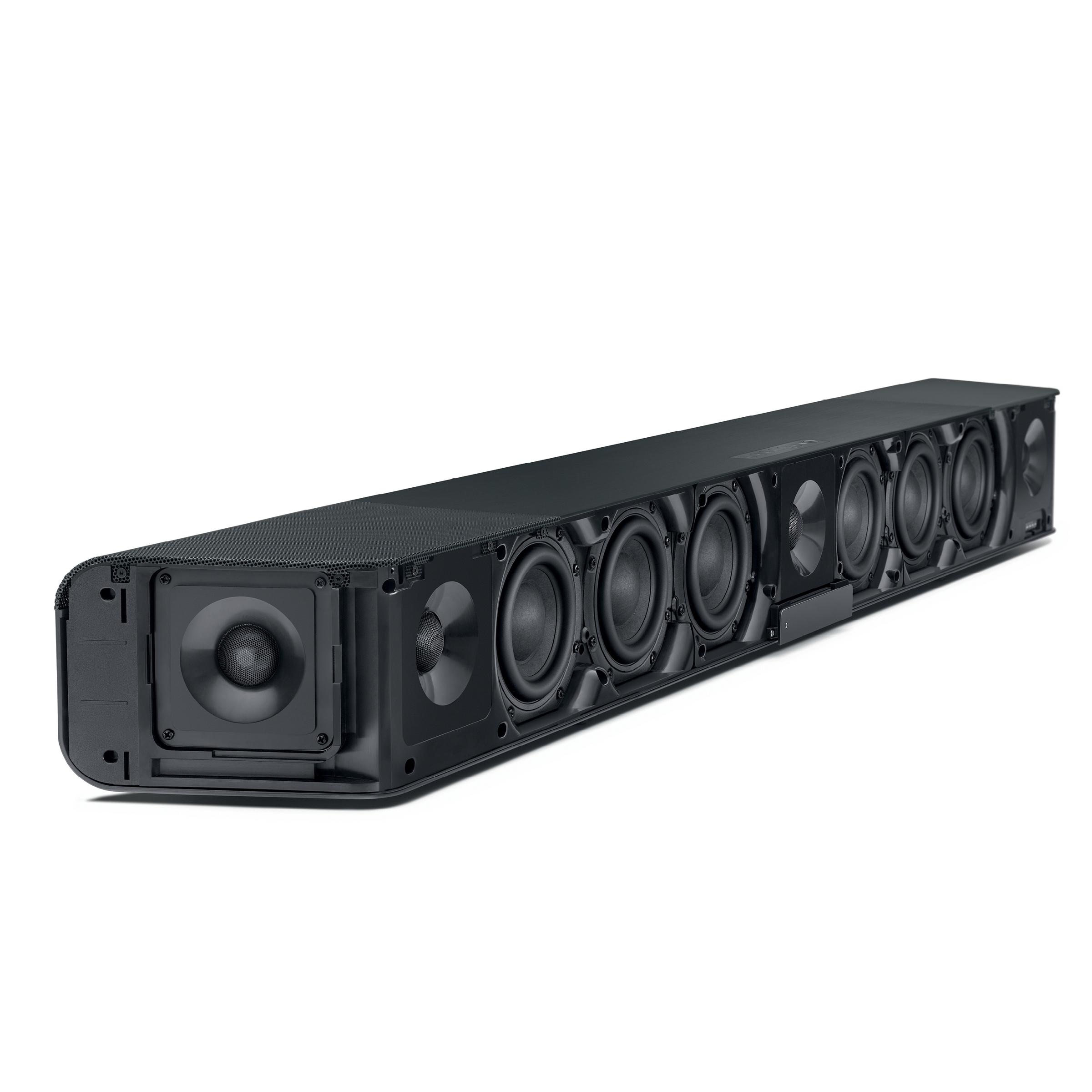 The new AMBEO Subwoofer, designed to give you goosebumps and offering deep and powerful bass, is supported by AMBEO virtualization technology and produces 350W power. The powerfully booming Subwoofer with its high-end proprietary bass speaker with a diameter of 20 cm, paired with a class D amplifier, guarantees an impressive bass experience. Designed to produce tight, deep and fast bass, the closed case produces audiophile-class bass with a frequency response that can go down to 27Hz. Multi-sub technology allows users to connect up to four subwoofers to scale bass performance and achieve optimum sound, while the wireless connection feature makes it possible to set up a tidy and minimalist room without the need for any cables. The AMBEO Subwoofer's advanced auto-calibration feature and built-in far-field microphone allow the device to precisely measure the acoustics of your room and adapt to any environment for an unparalleled audio experience, while the Smart Control mobile app handles all aspects to get the most out of a subwoofer. It brings the options to your home with a seamless user experience. Users can now enjoy the cinema experience at home with just one click…