Yealink Video Solutions for Microsoft Teams

Yealink Solutions for Microsoft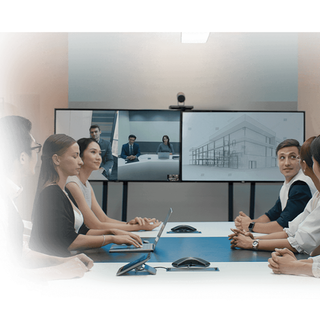 Yealink Video Conferencing Solutions for Microsoft Teams Empower Your Business.
In the modern workplace, corporate employees tend to communicate and collaborate with video meeting.
Video meeting not only provides instant collaboration and communication, but also increases productivity and sometimes triggers innovations in a teamwork.
Fully integrated with Microsoft Teams and covering meeting rooms of all sizes, Yealink video conferencing solutions come as a complete package with everything you need for a Microsoft Teams meeting. Easy-to-use solutions with superior video and audio experience can make teamwork more efficient and collaborative in all meeting spaces
Yealink Video Conferencing Solution for Microsoft Teams from Group Meeting to Extra Large Meeting Spaces
Reliable Audio Solutions
One-Cable Simplified Installation
The Yealink MVC room system has a single CAT5e cable connecting the TV area to the conference table, reducing installation time and avoiding cable clutter.
Superior Audio and Video Experience
Yealink offers Microsoft Teams users the perfect audio and video experience by customizing artificial intelligence supported cameras, multi camera supported solutions, artificial intelligence supported speakerphones, wireless microphones and much more according to your demand.
Wireless Content Sharing
Yealink video solution for Microsoft Teams provides wireless or wired ways of sharing. You can easily achieve wireless sharing by plugging the WPP20 into your laptops and activating it with one touch.
Device Management Platform
With Yealink Device Management Platform / Cloud Service support, users can remotely manage, monitor, configure, update and diagnose problems all Yealink audio and video conferencing devices on this platform.