The Story of Heritage
Since 1925, Bang & Olufsen has a rich heritage built on a relentless determination to innovate beyond imagination. It all started in 1925 when two engineers, Peter Bang and Svend Olufsen, built a modest radio in the attic of the Olufsen family home, 'Quistrup'. Their first product was developed in the penthouse of the Olufsen mansion in Denmark, where the family still lives today.
For more than 96 years, Bang & Olufsen has been producing products for the luxury lifestyle, powered by its core vision, a never-ending desire to create only the best and always find the better. Built around the relentless determination to create products that push the boundaries of audio technology, the rich heritage continues to put the company and brand at the forefront of audio innovation.
Every Bang & Olufsen product is unique, with a unique combination of timeless design and unrivaled craftsmanship.
It never loses its value.
"A never-ending desire to create only the best and always find the better…"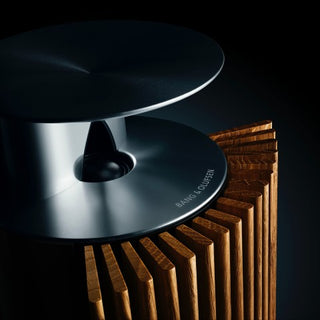 The Story of the Voice
Although still in rural Denmark, far from its first farmhouse, the headquarters is home to a world-renowned R&D team that conducts cutting-edge research in acoustics and perception.
Bang & Olufsen's renowned tonmaysters fine-tune each product for months to ensure you hear the music you love at its best.
The one-of-a-kind Virtual Reality lab tests product performance in every possible environment and continually perfects the listening experience.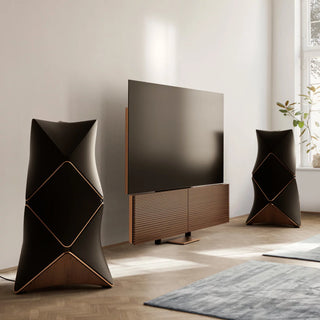 Design Story
The phrase 'Think different', the brand slogan of the 1960s, still remains inspiring and leads to a design approach that takes risks and embraces experimentation. This spirit of innovation has led many of Bang & Olufsen's products to be admired and exhibited by the world's leading art and design museums, including MoMA's collection.
The Story of Craftsmanship
One of Bang & Olufsen's main goals is to create long-lasting products. It adopts circular economy principles and encourages responsible consumption. Bang & Olufsen, whose ultimate goal is to create replaceable, customizable, and upgradeable components that extend product life and carry them forever, makes its products an integral part of your life journey.
Bang & Olufsen products combine excellent sound experience with timeless design and unrivaled craftsmanship. The brand's innovative audio products continue to be sold in Bang & Olufsen stores around the world and online. Employing approximately 900 people, the brand continues its activities in more than 70 markets. Bang & Olufsen shares are listed on Nasdaq Copenhagen A/S.
speakers
Fill Your Home with Perfect Music
Bang & Olufsen has many different types of speakers that can be used in any environment.
Portable Speakers let you listen to your music outdoors, at sports, garden parties or a beachside. Smart Speakers connect wirelessly over Wi-Fi, so you can listen to the same music through several speakers – perfect for creating a powerful sound experience in a room or listening to the same music everywhere as you move around your home. Home theater products are ideal for taking your TV's sound quality to the next level. All Bang & Olufsen speakers are active and give you high sound quality without the need for an extra amplifier. If you're thinking of buying multiple speakers that play music together seamlessly, the Bang & Olufsen Smart Speaker series is the perfect fit for you. Powerful sound and iconic looks combined.
Headphones
Your Favorite Songs Are Always With You
Take your travels to a whole new level with headphones that are expertly designed to deliver a superior audio performance.
Over-ear headphones offer iconic design as well as extra comfort. In-ear headphones are small and portable; It's a great choice for listening to music and answering calls on the go. Active noise canceling headphones keep background noise to a minimum, perfect for when you want to completely immerse yourself in the music on your commute.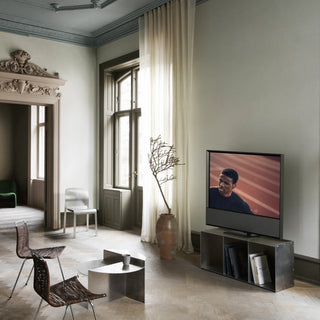 TVs
A Perfect Cinema Experience by Bang & Olufsen
To hear is to feel. Played correctly, the sound will take you from your living room to a packed stadium, to the bottom of a vast ocean, or to a distant galaxy.
Bang & Olufsen differs from many brands in that its products are designed to work harmoniously together as a fully integrated system. One of the best examples of this is the digital sound processor inside the Beovision TV, which "knows" exactly the features of all the other Bang & Olufsen products in the room. This feature optimizes the sound distribution of your TV not only according to your configuration, but also according to your room, listening position and the content you watch. So you can enjoy a music system, a television and a home theater system together.