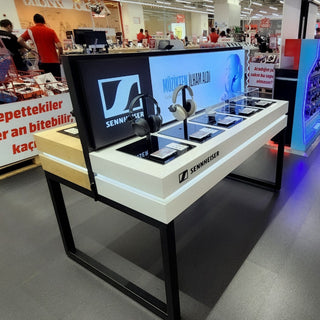 Sennheiser is renowned for its excellence in superior sound quality and unique technologies, making it a favorite of audiophiles around the world. Now, we are proud to present an experience center waiting for you in Media Markt stores to experience your Sennheiser branded products.
Sennheiser Experience Center aims to give you the best audio experience by offering an atmosphere that audio enthusiasts will admire. This special area presents Sennheiser's entire product range and invites its users to a fascinating audio journey. In our experience centre, you can discover, experience and examine in detail our various products such as headphones, speakers and other Sennheiser products.
Great Place To Work
We are pleased to receive the "Certified" title given to successful companies by Great Place to Work as a result of the "Best Employers Employee Experience" survey conducted all over the world under the leadership of Great Place To Work.

We would like to thank all our teammates who carried Bircom to the future and made this perfect family environment better.