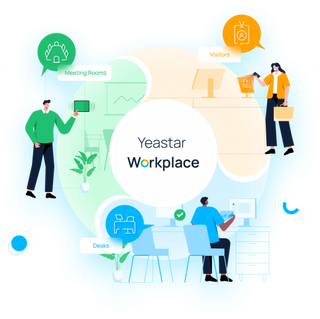 Yeastar Workplace
All-in-One Workplace Management
The meeting room reservation, table reservation and visitor management systems you need to digitally transform your workplace are in one place.
Meeting rooms, desks and visitors - all in one
Designed for modern offices and the future of work, Yeastar Workplace is a one-stop workplace management solution for businesses to better utilize workplace resources and create a hybrid workplace. Especially today, it helps create a safe, flexible office environment that encourages employees to return, and ensures that every piece of property is valuable.

Meeting Room Reservation System
Increase seamless face-to-face collaboration
✓ Room Planning
✓ Real Time Availability
✓ Check-in and Automatic Confirmation
✓ Room amenities
✓ Meeting Services



Table Reservation System
Enable table sharing and flexible seating
✓ Reserve Tables in Advance
✓ Interactive Floor Map
✓ Peer Finder
✓ Team Space
✓ Collaborative Desk

Visitor Management System
Manage who comes to your office and visitors
✓ Visitor Pre-Registration
✓ Contactless Check-in
✓ Host Notifications
✓ Customizable Surveys
✓ Visitor records
Reservation, management and analytics - all in one
It is easy and understandable for both users and administrators.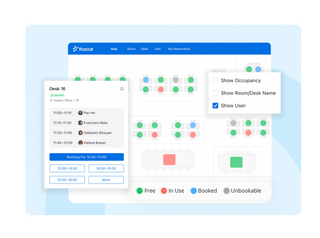 Employee Reservation
Yeastar Workplace facilitates a smarter booking process with less administration. Employees can easily navigate the online platform to find and reserve work and collaboration spaces that best suit their needs.
Multiple separation grid views
Interactive, searchable and bookable office map
Filter the search by location, seating, and amenities
Advance, temporary and recurring reservation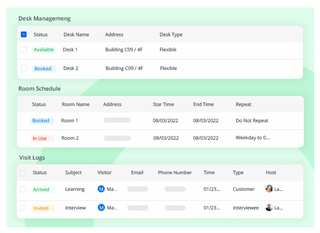 Space Management
Yeastar Workplace makes it easy to keep things on track. Office managers can maintain control of space allocation, ensure workplace compliance, and meet occasional needs with centralized management.
Keep historical records of all booking and visitor activities
Keep your buildings and people coordinated
Apply custom rules and approval process control
Set scheduled reminders and email notification
Require check-in and check-out to confirm and cancel reservations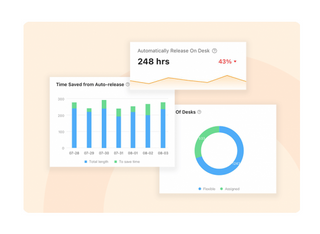 Workplace Analytics
Yeastar Workplace provides great visibility into what's going on in an organization. Workplace leaders can more effectively identify the biggest pressures on resources and opportunities for optimization.
Data-driven decision on workplace design strategies
A holistic view of space usage and visitor behavior
Trends and patterns in a given time frame
Advanced reporting on various usage statistics
Software, hardware and integration - all in one
Alongside the intuitive online booking platform, Yeastar Workplace also integrates additional hardware devices and 3rd party systems to offer an all-inclusive solution to go beyond the average booking experience and serve different business management needs. With everything in its place, your workplace is fully equipped to operate at its best.
Room Screen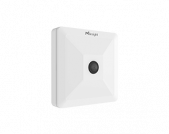 People Counting Sensor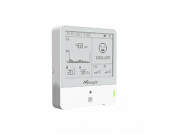 Room Comfort Sensor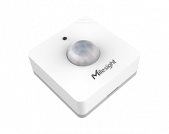 Table Occupancy Sensor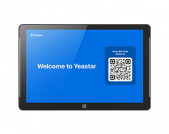 Visitor Screen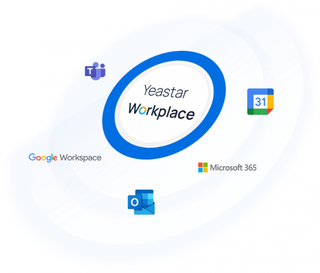 Integrate With Your Existing Tools
Connect Yeastar Workplace to Microsoft Teams, Microsoft 365 or Google Workspace to provide seamless booking and two-way schedule synchronization across your familiar apps. Integrate with Active Directory or OpenLDAP to simplify employee directory updates and easily maintain accurate personnel records.