Company Profile
Security and VoIP provider Synway, a leading company in China, serves more than 3,000 customers with its products and services in many areas such as contact centers, financial sectors, public and national security agencies. In an ever-changing and evolving system, Synway's long-term goal is to partner with unified communications suppliers to provide government agencies, businesses with a complete and superior range of solutions, including VoIP Gateway, SBC, IP-PBX and Paging.
With more than 2,000 employees, Synway owns the intellectual property rights for all product portfolios in global markets and has generated 10-15% annual revenue for R&D and Technical Procurement since 2005. To support the in-house idea and achieve better customer experience, Synway forms strategic partnerships with customized OEM and ODM services to move forward more efficiently.
UC Series IP-PBX
The UC Series is an IP PBX device that provides enterprise-grade unified communications and security protection. It is designed for all businesses without any license fees. It combines multiple communication technologies of enterprises such as voice, fax, calling, conferencing, video/audio control, data tools, security control, mobility and facility access management in a common network. Contact Us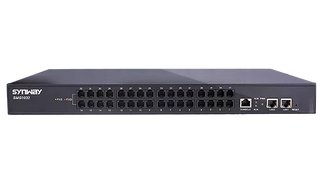 VoIP Gateway
Specializing in signal and voice technology for over two decades, the Synway VoIP Gateway series helps legacy telephony applications access IP networks more efficiently and reliably. Field-proven PSTN/IP signaling technology uniquely and seamlessly connects your investments and time-to-market with the least complex network environment, even in any uncertain situation.